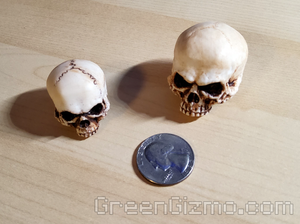 Grim skull cymbal toppers
Hey there!
I'm sure there's a chunk of you who've been wondering where the toppers are and why they've been out of stock for so long. Well, we've been improving the design!
Larger, more detailed, made of the same tough as nails material!

On the left is the old topper, on the right the new.
As to why it's taken us so long to get these going? Well naturally we're making this by ourselves and because of the current events materials have been randomly hard to get.
But we have everything we need and they're coming soon as we're in full production to try and get back on track! 
Our spite skulls got a revision as well, they're more detailed than before. Thank you for your patience, look forward to the MK-II skulls!
-Mike | Green Gizmo
---