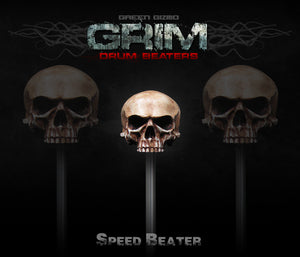 New Product: Speed beater!
As you may or may not have seen, we have launched a new custom product!

If you liked the look of our Grim Power Beaters but wanted something lighter we have something new for you! Grim Speed Beaters have 50% lighter head weight but feature the same strong stainless steel rod and high impact plastic meaning they're just as durable.
We've been testing them for the past few weeks in house and we're happy with how they've been performing, they offer a different feel to drumming vs our power beaters.
---