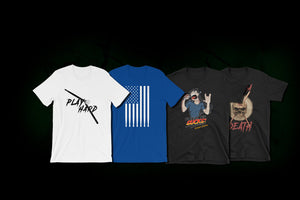 New topper, tshirts and more!
Hey everyone!
We've been hard at work with some new gear and shirt designs. The gear you might have seen since it's been posted for few weeks but I figured it'd be good to formally announce it, okay? Okay.
New Horned cymbal topper:
It's larger than the regular grim toppers by a fair bit. About the size of our speed beater's head (and just as durable!)
We think it came out great and hope you agree! \m/
Next up, we've added a few more shirt designs to the line up!
Some fun designs, patriotic and naturally, skulls. Because, you know us. <3
We have more on the way too! We're just working out the kinks, but should be more info soon so, stay tuned everyone! Thanks for being patient between these blog posts and we hope you like our new stuff!
-Mike
---